Have you heard about Google Reviews? They are a great way of sharing your experience so other people find it easier to navigate different businesses and work out if they will be the right fit for them.Wondering how to leave a  Google Review?
However it can be a bit confusing to leave a Google Review if you aren't familiar with the process, which is why we put together this blog post to help you.
There are a couple of different ways of leaving a review. We think the easiest is through searching on Google for the company you want to review.
We will walk you through how to do it this way, with the example of reviewing Bromilow Community Care. Here's how to do it.
1.  Search for the business you want to review on Google.

2.  Click on the reviews tab located in the business information box at the top right hand side of the page.
3. Click 'Write a review'. When you do this a box like the one below should pop up. This will only happen if you are already signed into your Google Account, If this is the case skip forward to 'Step 7'.
4.  If you aren't logged into a Google Account already you will get a notification like this instead. If you have a Google Account you aren't logged into, you will likely see it in the options below. Simply log in and skip ahead to 'Step 7'.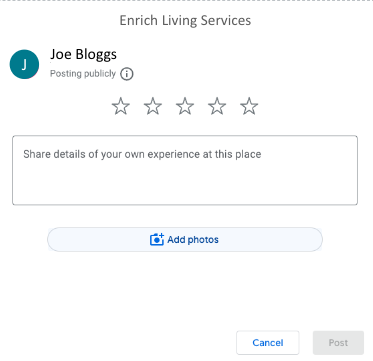 5.  If you don't already have a Google Account, don't stress it's really simple to set one up! Simply click the Create Account button and fill in the information.
6.  You will then get to the Review Screen, where you can click on the number of stars (1 being poor, 5 being amazing) and if you would like to you can also leave a brief comment about the business. When finished just click 'Post'.
We hope that made sense and you now know how to leave a Google Review! Of course, if you have any questions just let us know. Thanks in advance for your review.